---
No. 602 (City of Glasgow) Squadron , RAF in Normandy - Pat Curran - 01-02-2013 11:09 PM

Hi All,

I have opened this thread to facilitate a study of No. 602 (City of Glasgow) Squadron , RAF and its participation in the invasion of Normandy. Regular readers may recall that we found one of this squadron's Spitfires on the A-6 La Londe ALG a while back. Here is the still from the footage I found in the International Historic Films DVD "

Dropzone Normandy

" again:




The Spitfire on the right marked 'LO-C' is the 602 Squadron aircraft. The other Spitfire marked '4G' is a member of

US Naval Squadron VCS-7

, part of the Air Spotting Pool (ASP) based at the Royal Naval Air Station (RNAS) Lee-on-Solent in the UK. This unit was tasked with spotting for the naval bombardment units stationed off the invasion beaches.

I am currently reading the excellent book "

D-Day - The Air Battle

" by Ken Delve and I note on page 123 there is a quote from one of the pilots with No. 602, Pierre Clostermann:


Quote:"We flew along the Cotentin peninsula. There were fires all along the coast, and a destroyer surrounded by small boats was sinking near a small island. Our patrol zone was the area between Montebourg and Carentan. We were covering the 101st and 82nd American Airborne Divisions, while the 4th Division, which had just landed, marched on Ste-Mere-Eglise.

We couldn't see much. A few houses were in flames. A few jeeps on the roads. The sky was full of American fighters, in pairs. They were wandering about rather haphazard, and showed a tendency to come and sniff at us from very close to; when they seemed too aggressive we showed our teeth and faced them. One Mustang coming out of a cloud actually fired a burst at Graham. Graham, whose shooting was as good as his temper was bad, opened fire on him, but luckily for the Mustang, he missed."

I have found the official museum site for No. 602 Squadron

here

and I have left a message requesting any information on the aircraft marked 'LO-C' during the period of the Normandy invasion. If anyone reading here has a copy of the squadron's ORB for this same period, I would be very grateful if you would let me have a copy or failing that, if anyone knows what National Archives file the ORB can be found in, I will order a copy myself.

Many thanks in advance,

Pat


---
RE: No. 602 (City of Glasgow) Squadron , RAF in Normandy - Sean - 01-04-2013 05:55 PM

Hello all,

I was going to wait before posting this, but one thing led to another, so here it is.

Some of this is going over again stuff we lost from the BB forum, I think.
The ORBs from 602 Sqn.... here are the relevant sections of the

Record of Events

for aircraft force-landed in France before 16th June:




P/O Kidd, RCAF





F/Sgt Fox



The illegible word under "FRANCE" is I think "injury".





F/O Robinson








Then from the

Summary of Events

are the following passages:





The latter aicraft (in both cases) that of Robinson, was one of a group that spent the night on "an airfield" in France, and returned to it in his case.
I'm not sure, but I reckon the aircraft of Kidd and Fox are the ones we're looking for. The only main problem is that Kidd's account refers to "Coalville", which presumably is "Colleville"... (I think we can take "beach" as "beach-head"- it's referred to as such elsewhere).
Maybe a bit confused given the circumstances.

Both Kidd's and Fox's aircraft were written off, the latter straight away, Kidd's was "salvaged but SoC (struck off charge) on 30th August.
Source: RAF Fighter Command Losses of the Second World War Vol 3

For the aircraft themselves, there are a coule more images, both from US National Archives, which show Spitfires other than Ensign Adams "4-G".

The first shows the laying of the SMT for the runway, with Adams' Spitfire on the right, and an unkown Spitfire on the left.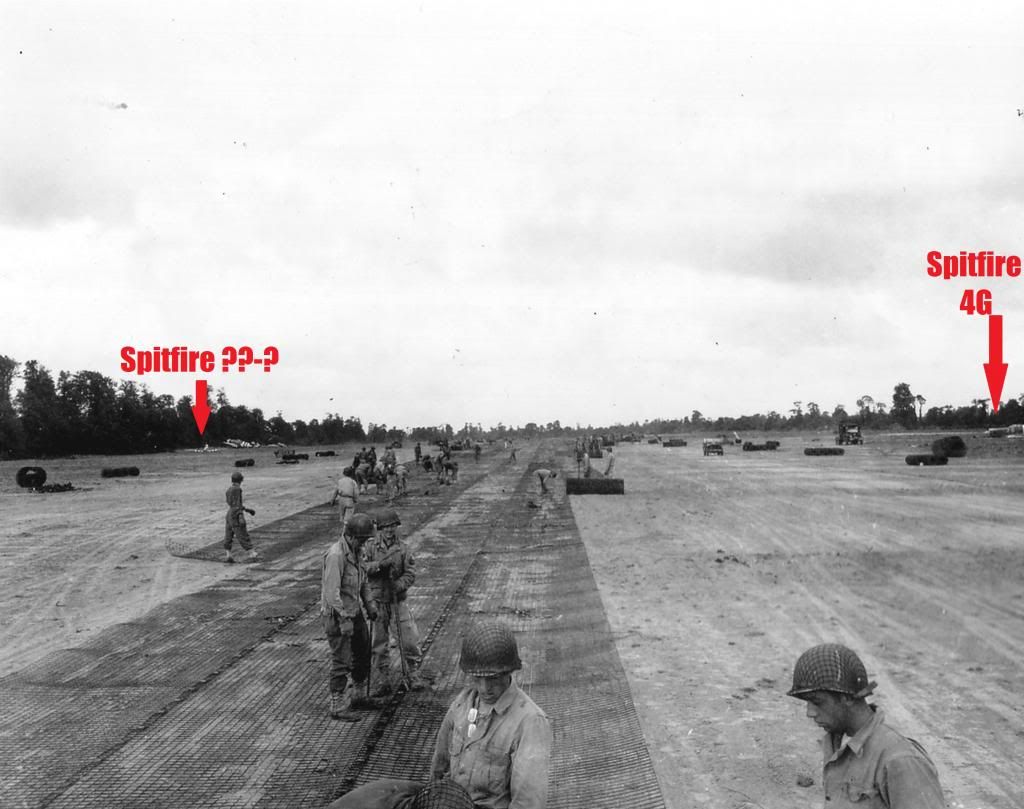 The second image has again Adams' aircraft easily identifiable, but with another Spitfire (probably...) also visible way off at the back, behind the two P-47s near Adams' 'plane.
There is also another "possible" behind the two closest P-47s. I had initially thought it a P-51, but I'm not sure. Same engine, more or less.... what puzzled me a bit were the propeller blades, Sptifires having (in this case) wooden blades, which snap or disintegrate on contact with the ground, but as far as I know (not really my speciality), the P-51 usually had a metal bladed prop. The blades on the aircraft on this picture seem to be wooden.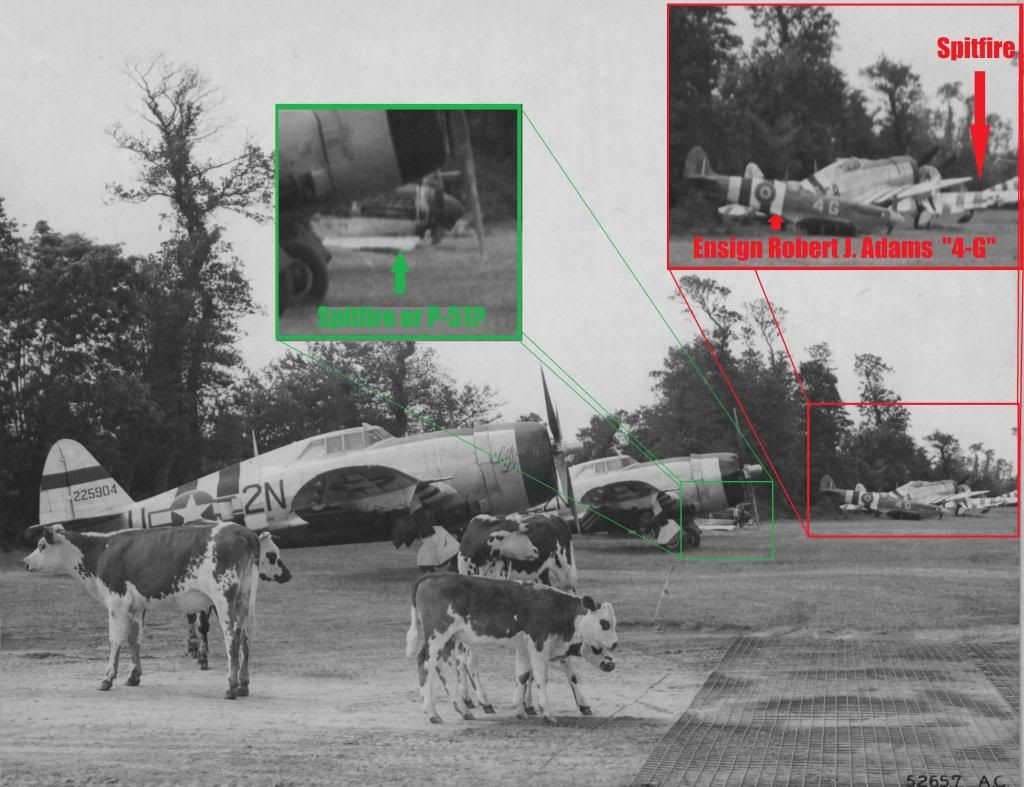 One last thing, a picture of P/O Kidd, who was killed a month later:




Image from Aircrew Rememberance Society: http://www.aircrewremembrancesociety.com/search.html

And Kidd's page from the CWGC:
http://www.cwgc.org/find-war-dead/casualty/2323226/KIDD,%20LEONARD%20DEWAIN


OK, that'll do. Thoughts and corrections welcome as always.

All we need really are visible, legible, serial numbers....

Cheers,

Sean


---
RE: No. 602 (City of Glasgow) Squadron , RAF in Normandy - Sean - 01-05-2013 01:14 PM

Hmmmm,

Looking again I might change my mind- it may be more likely to be a P-51. There's the wheel from another P-51 visible in the photo (below), and the blades now look bent rather than shattered...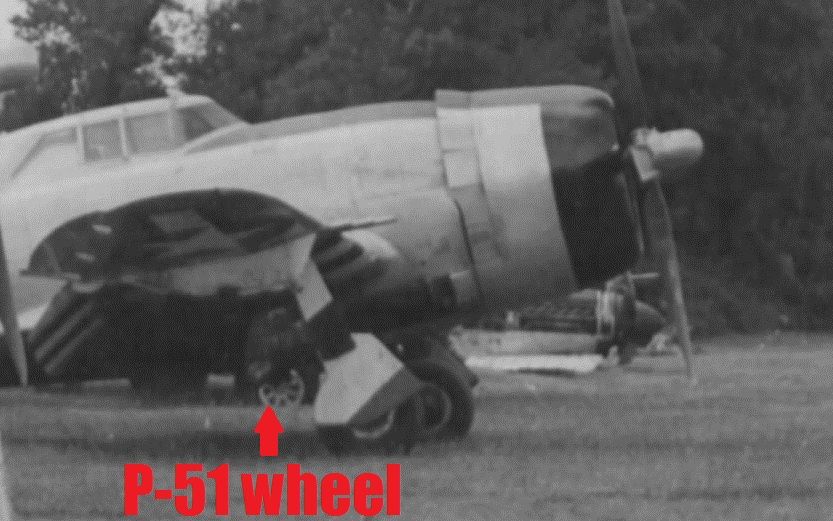 Sean


---
RE: No. 602 (City of Glasgow) Squadron , RAF in Normandy - Pat Curran - 01-05-2013 09:44 PM

Hi Sean,

Many thanks for providing us with a copy of No. 602's ORB for June '44. I have added it to our Library area in the '

Advanced Researchers Area

' section. I see that P/O Kidd on the 7th June and F/Sgt Fox on the 10th landed on the same strip in Normandy. The reference to the low barrage balloons at

"the first strip he saw"

might indicate P/O Kidd looking at the A-1 ALG at St Pierre du Mont, above Omaha Beach. The next strip found and selected to land is stated to be at 'Coaville', which I also take to be

Colleville-sur-Mer

. All this appears to exclude the A-6 ALG at La Londe.

It's pretty fair to say that they came down in the Omaha sector so I would wonder if the A-22 ALG might not be a possible candidate. However, the

construction

of that strip, according to

this

page did not commence until the 30th June. This could still work as the two entries in the ORB referring to the two pilots landing indicate a very sparse strip in the very early stages of improvement.

...much to ponder


Regards,

Pat


---
RE: No. 602 (City of Glasgow) Squadron , RAF in Normandy - Pat Curran - 01-06-2013 01:06 AM

Sean & All,

Of the entries you pointed out in the ORB above, I like both the date and the circumstances of F/O G.L. Robinson's visit and extended stay in France on the 15th/16th June:




We can rule out the other aircraft left in Normandy on the 16th, that of F/Sgt Chalice as he was flying LO-R according to this entry on the

www.spitfires.ukf.net

site:




Does anyone know the date on which air evacuation commenced on the La Londe A-6 ALG? As can be seen from the ORB extract, this is how F/O G.L. Robinson got back to England.

Thanks,

Pat


---
RE: No. 602 (City of Glasgow) Squadron , RAF in Normandy - Pat Curran - 01-06-2013 02:07 AM

One more thought...

If the 'skin' on

this

Spitfire is correct, aircraft LO-D was flown at some stage by the Free French Pilot,

ASP Pierre Clostermann

. Note it has the Free French symbol on the side under the front cockpit. Can anyone make out if the Spitfire LO-C in the La Londe A-6 ALG footage still has the same symbol and hence flown by one of the other two Free French pilots in 602 Squadron?

Thanks,

Pat


---
F/Sgt Fox - Sean - 01-06-2013 10:02 AM

Hello Pat and all,

So, how does this work for a scenario..... F/Sgt Fox saw the airstrip at St Laurent sur Mer protected by balloons. He made his way westwards, saw the strip at St Pierre du Mont, where P/O Kidd had previously landed, Kidd becoming involved in the attempts to reach the Rangers at Pointe du Hoc, presumably..... By the time Fox landed, the airstrip was more or less finished, and there, from the airfield website

"On 8 and 9 June 1944 an RAF Ames Type 15 GCI radar site was active on the west side of the airfield, but it moved to St. Pierre du Mont in the night of 9 and 10 June."



Kind of fits quite nicely, doesn't it?


Cheers,

Sean


---
RE: F/Sgt Fox - Pat Curran - 01-06-2013 12:05 PM

Hi Sean,

Your scenario does indeed work well.

I think we can safely rule out these two aircraft and pilots as candidates for the La Londe A-6 ALG footage still.

My theory on the Free French symbol placed under the port side left front of the cockpit has hit a problem. Below are the markings of

three

different aircraft flown by ASP Pierre Clostermann in the spring and summer of 1944:



As you can see, only the earliest aircraft had the Free French symbol. If this is correct, it is unlikely that LO-C had the same symbol even if it was being used by one of the other two French pilots of 602


Regards,

Pat


---
RE: No. 602 (City of Glasgow) Squadron , RAF in Normandy - Pat Curran - 01-06-2013 04:27 PM

Hi Folks,

Now I cannot claim to have found this new photograph of LO-C on the La Londe A-6 ALG as I was led to it having found Michel Le Querrec's tie-up

here

(though he does seem to be using one of our screenshots
) The new photograph is on the Fold3.com site

here

and reproduced below:


...zoomed to below:



Is the last digit of the serial number '6'?

If it is, it fits with F/O G.L. Robinson's listing on Sean' extract from the Form 541 - Record of Events. I think his aircraft serial number is 'MJ-276' (not sure about the 'J') as flown by him on the 15th June when he force landed in Normandy. Sean, can you check this serial number as I do not have a copy of the Form 541; only going by what I see on your extracts posted above.

Is there any other serial number listed ending in the digit '6' as having landed in Normandy? - Thanks Sean.

Liking F/O Robinson as the possible pilot of LO-C more and more


Regards,

Pat


---
RE: No. 602 (City of Glasgow) Squadron , RAF in Normandy - Sean - 01-06-2013 05:21 PM

Hello Pat and all,

Excellent stuff!

MJ-276 it is. Their only other 'planes landing in France in June had serials ending in other numbers.

As for the "other two", the radar thing should have been the giveaway, but it didn't register.

Cheers,

Sean


---